Project History
Grease Plant in Bangladesh (2019)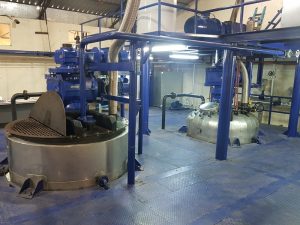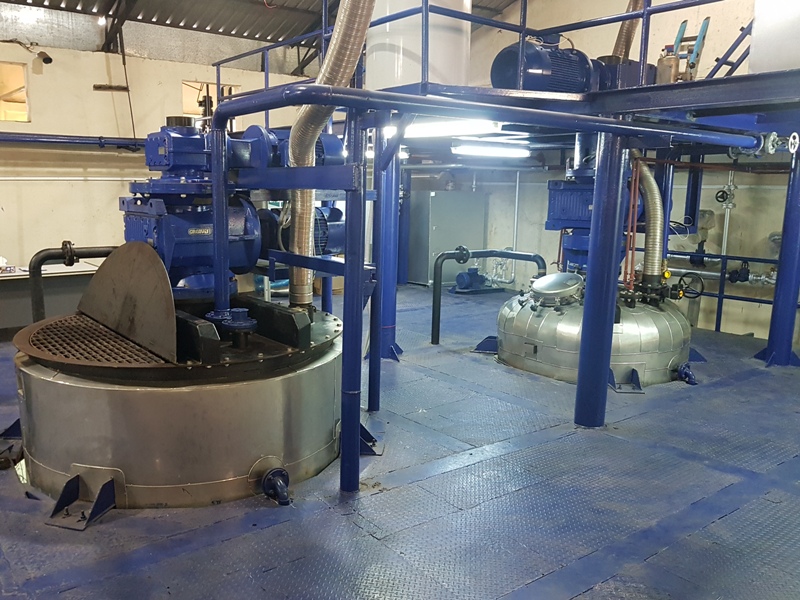 This comprises a 3 Tonne Autoclave and a 5 Tonne Finishing Kettles to update and increase the production capacity of an ageing process plant. The two vessels can also run independently as stand-alone kettles. Post-processing is based on a mobile mill, grease filter and de-aerator on the ground floor.
We have used the same high powered variable speed agitation that was used for the Qatar project, which gives complete reaction in the shortest possible time, allowing the benefits normally attrubuted to under-driven contactors without their disadvantages.
We designed special support leg and framework structures for the vessels and their product pumps to enable them to be put into a building that presented a major access challenge.
We supplied the thermal oil control system, including valves and cooling equipment and the client provided the mezzanine floor thermal oil pipework and connection to their thermal oil heater.
---
Smaller Scale Grease Plant Module (2018)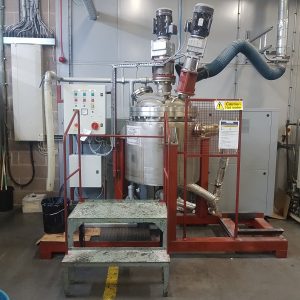 Built on a limited budget to meet the needs of a specialist lubricants manufacturer, this comprises a converted 250 Litre stainless steel insulated jacketed vessel retrofitted with an anchor and medium speed offset incorporator. It is heated and cooled by electrical thermoregulators supplied by the customer.
The control system includes a temperature regulator and three inverters to give variable speed drives for both agitators and product pump.
Mounted on a box section skid capable of holding the relevant ancillaries, making the unit as close to portable as practicably possible, the vessel is used to manufacture low-volume high-value synthetic lithium grease for the electronics industry.
---
Grease Plant for Qatar (2012) – Second Phase

This comprises a 3 Tonne Autoclave and two 5 Tonne Finishing Kettles to give the plant a 3000 Tonne per annum capacity on a single shift system, higher on double shifts. The three vessels can also run independently as stand-alone kettles. Post-processing is based on a mobile mill, grease filter and de-aerator.
We have used faster and more powerful agitation on this plant than in its predecessors, which gives a more complete reaction in a shorter time, allowing the benefits normally attributed to under-driven contactors without their disadvantages.
Some of the support equipment, for example the thermal oil heater and mezzanine floor were sourced independently by the client to maximise their cost benefit.
---
Bentone Grease Unit for Qatar (2011)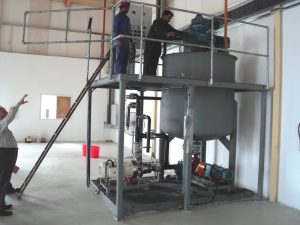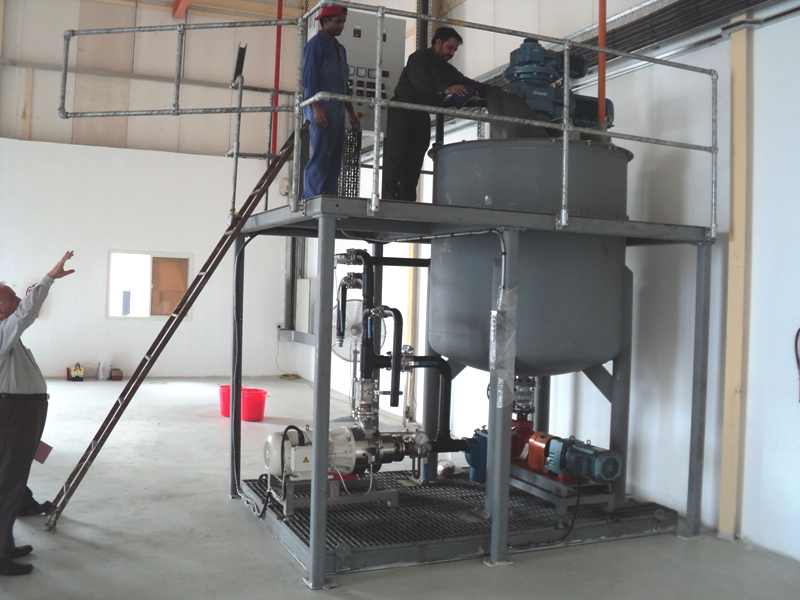 This is the first phase of a full scale grease plant outside of Doha. The unit comprises a 2 Tonne skid mounted double motion kettle with pump, mill, access platform and control panel.
The control panel features variable speed drives for the gate, inner agitator and pump, amongst the control equipment.
This unit embodied the chief advantage of the skid mounted system as it allowed rapid erection on-site with the minimum of specialist equipment.
---
Complex Grease Turbomixer Pilot Plant (2009)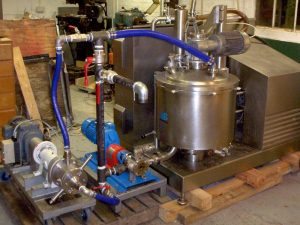 Based on a skid mounted Scanima Turbomixer, originally for the food industry, this plant makes 20 – 30 Kg batches of grease with a higher yield than its conventionally agitated counterparts with the majority of formulae.
Having completed R&D work for a US Client, it has now been sold to a manufacturer in Liverpool.
---
Marine Fuel Blender for Trinidad & Tobago (2002)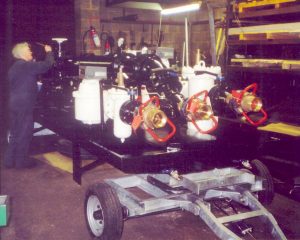 This was done by renovating a self-powered Fisher Blender and mounting it on a bi-directional trailer for mobile bunkering at Point Lisas, Trinidad. The chief advantage of this unit is that it does not need an electrical supply and thus can be used in a flammable atmosphere or in the vicinity of flammable liquids
---
Lithium Grease Plant for Kuwait (1998)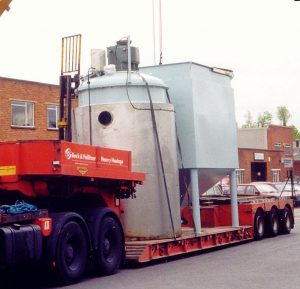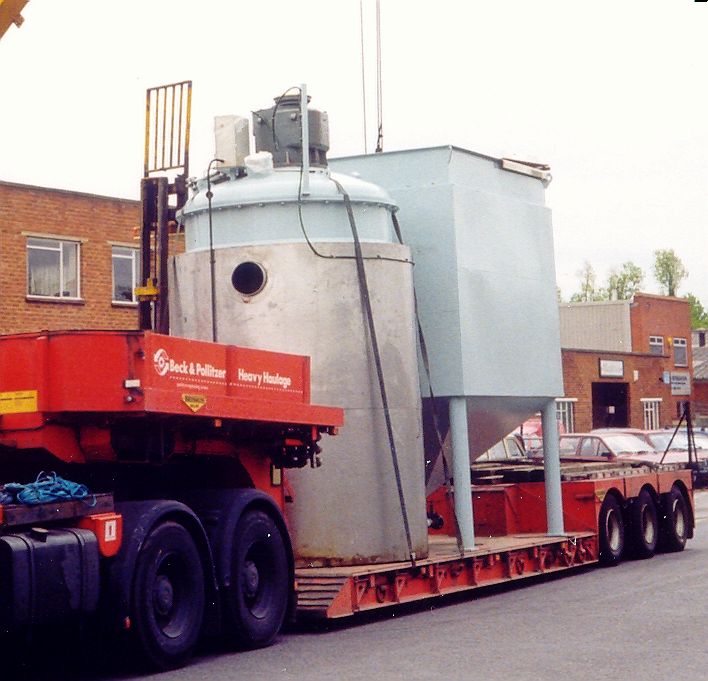 This was built to replace a Grease Plant destroyed in the Gulf War; as the customer was an experienced Grease Maker, he had a strong design input and the plant was built to match his grease formulae and methods.
It featured the largest kettle we had built to date, being 5 Tonnes in capacity and offered a design upgrade over its predecessor, such as:
Contra-rotating paddles
Water-cooled hopper for high ambient temperature operation
De-aerator with variable orifice
---
Skid Mounted Lithium Grease Module for Trinidad & Tobago (1993)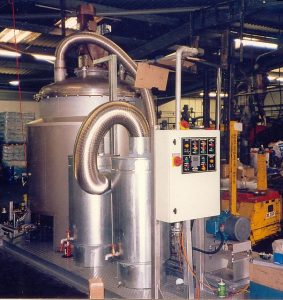 This was ordered to increase the capacity of the grease plant supplied in 1985. To enable the customer to install and commission it easily, everything was mounted onto a single skid, including the control panel and fume extraction system.
---
Brake Fluid Plant for Trinidad & Tobago (1992)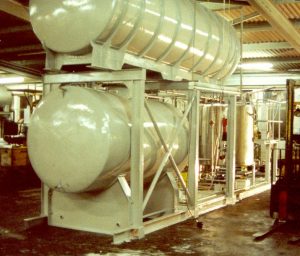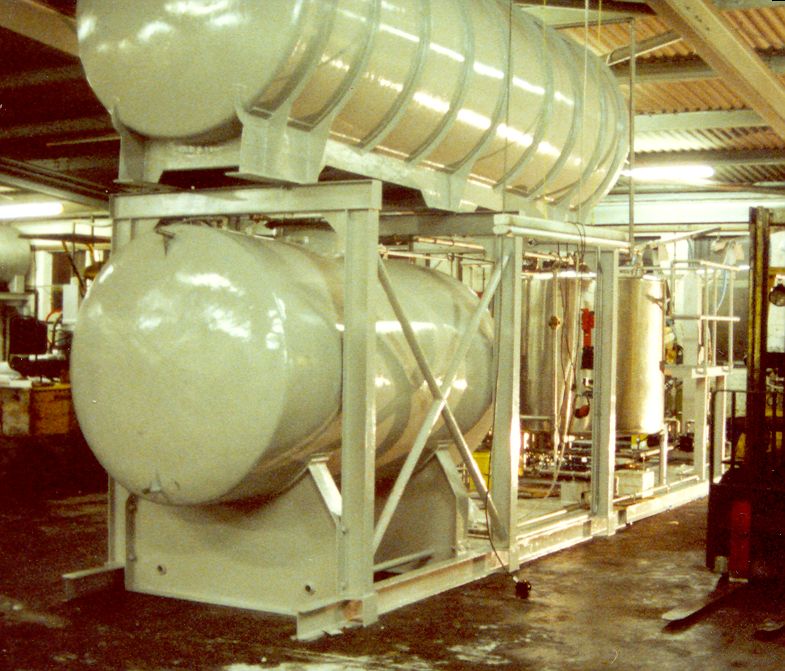 This plant was designed to blend two-pack liquid systems from a major manufacturer into DOT 3 brake fluid.
Blending has to be done in a 100% dry atmosphere because this type of fluid is strongly hygroscopic and any water absorption reduced its temperature range, compromising vehicle safety in heavy braking situations. To make this possible, a moisture free environment provided by a nitrogen blanket that was desiccated in silica gel columns.
It featured:
Stainless Steel contact surfaces
Raw Material barrel siphoning
Raw Material and finished product buffer tanks
Variable speed mixer
Volumetric flow metering
Skid mounting
---
2000 Tonnes Per Annum Grease Plant for Turkey (1991)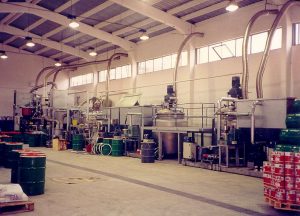 This was our first foray into making a grease plant where its main kettle was pressurised and heated and cooled by thermal oil. It was designed to be capable of manufacturing:
Lithium Grease (Mono-Soap and Complex)
Calcium Grease (Hydrated and Anhydrous)
Aluminium Stearate Grease
Bentone Grease
Sodium Grease
The thermal oil heating also contained a circuit to recover heat from the batch during the cooling circuit and use it to heat the base oil for the next batch.
---
1000 Tonnes Per Annum Grease Plant for Trinidad & Tobago (1985)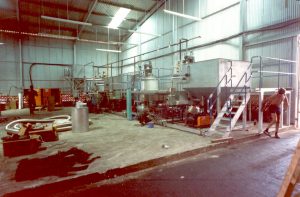 The first plant we were involved with. It was based on a 2 Tonne directly heated grease kettle and two steam jacketed mixers. The plant was designed to be capable of manufacturing:
Lithium Grease (Std and Complex)
Anhydrous Calcium Grease
Aluminium Stearate Grease
Bentone Grease
Sodium Grease
This plant used a single stage process to do the whole batch, after which the grease was stored in a hopper for feeding to the mill and de-aerator