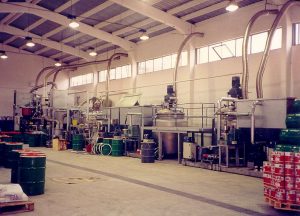 The customer wanted a 2000 Tonnes per Annum grease plant, to diversify into grease manufacture because of an increasing domestic demand.
They wanted to manufacture a wide product range, therefore we designed and built the plant to be capable of manufacturing:
Lithium Grease (Mono-Soap and Complex)
Calcium Grease (Hydrated and Anhydrous)
Aluminium Stearate Grease
Bentone Grease
Sodium Grease
This was the first plant that we built to include a pressurised kettle with thermal oil heating and cooling.  It also featured a novel waste heat recovery system that took heat removed from the batch cooling phase and used it to pre-heat the base oil for the next batch.