CHUTNEY MAKER INTO COMPLEX GREASE TURBOMIXER
A client wanted to manufacture complex greases.  Although a standard grease kettle will make most complex greases, a high shear or turbomixing vessel can give a better result.
Kettles with turbomixers are expensive and specialist.  Although we normally recommend building from new, not all budgets will stretch to that.
Fortunately, we located a pilots-scale Scanima Turbomixer, normally used to manufacture chutneys and sauces.  We used it to create a pilot sized turbomixer grease kettle by:
Converting the steam heating system to thermal oil, which allows a higher temperatures to be reached without high pressure
Building a supplementary heating jacket underneath
Sealing off bottom mounted inlets that were not required
Rebuilding the discharge valve to accommodate higher tempaeratures
Replacing the lid seal because the original one had insufficient temperature range
Extending the scraper to work on the vessel floor as well as the sides
Integrated a heat transfer oil thermoregulator, product transfer pump and Charlotte mill into the system
We used this vessel to produce calcium sulphonate complex and lithium complex greases.  Since then, a major grease manufacturer in the UK bought it from us and use it for small scale and pilot production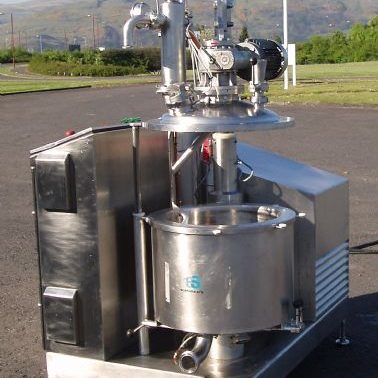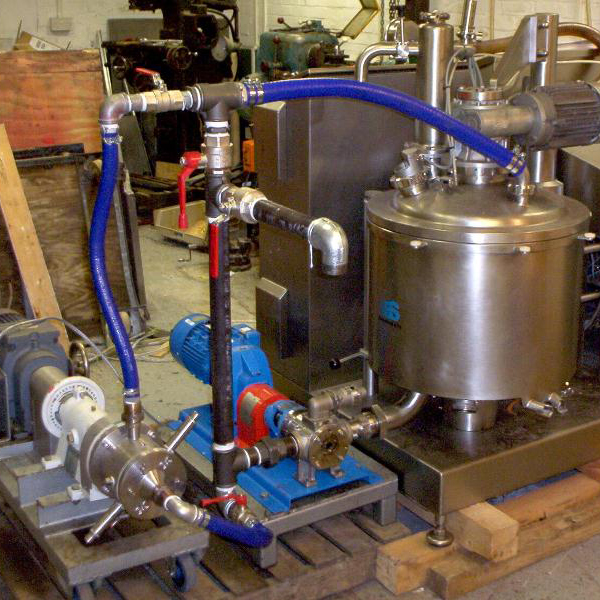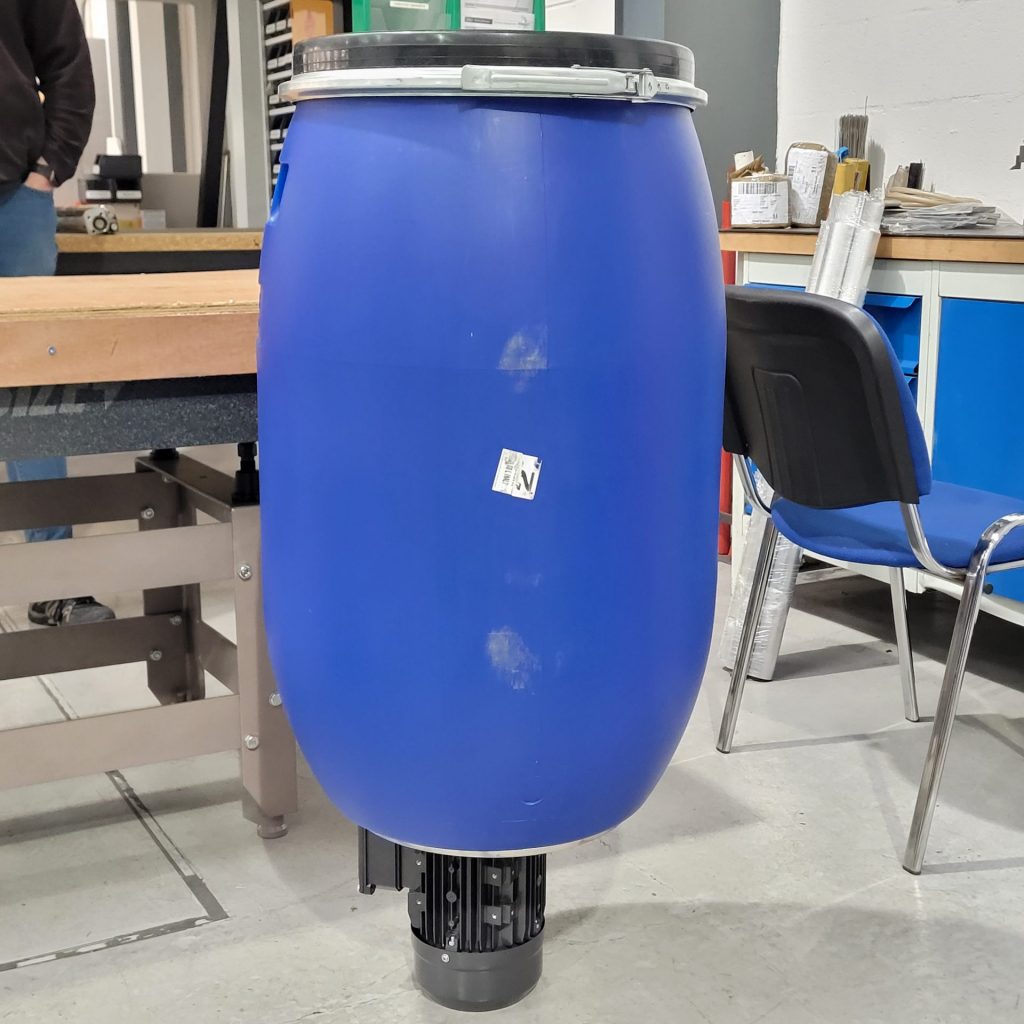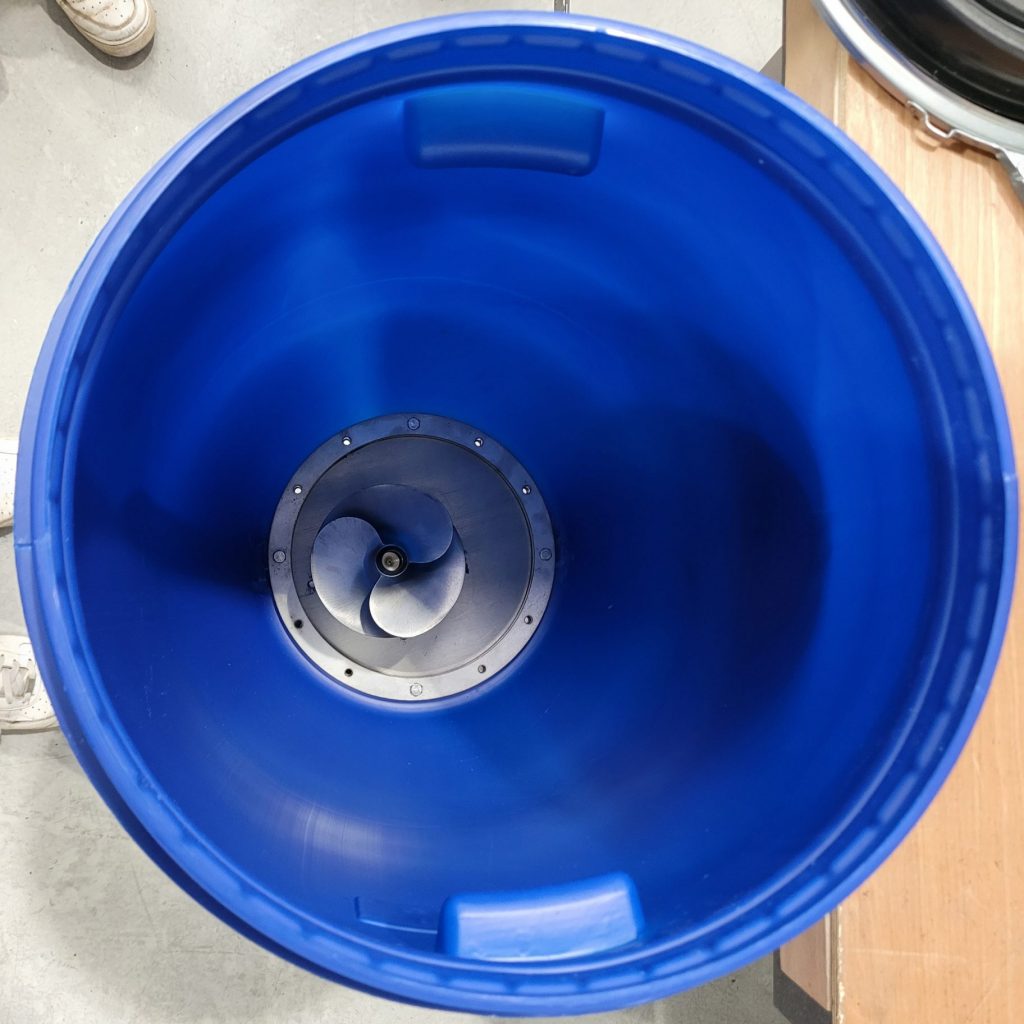 COST-EFFECTIVE ALCOHOL HAND SANITISER MIXER
The challenge is to make a small scale hand sanitiser blender with minimal investment.  This is not the result of a cheapskate approach, but to mitigate the loss in the event of the venture failing, due to the high commercial risk in this sector.
We have to maintain high standards for this application, including:
Stainless steel and/or inert plastic contact surfaces
ATEX Rated drive to address the explosion risk
High shear to achieve the thickening action
The main components are:
120 Litre Poly Drum
2 Pole ATEX Rated drive motor
Variable Speed Inverter Drive
Jet-Ski Impeller
The fabrication is on-going and we will update soon….
CONVERTING AN EX-TORNADO GAS TURBINE INTO A HOVERCRAFT ENGINE
Traditionally, two-stroke engines provided high power-to-weight power plants for portable applications and lightweight vehicles, such as hovercraft.  However, increasingly stringent exhaust emission regulations are forcing these out of production.
In recent years, components from Tornado fighter aircraft, such as their T312 Auxiliary Power Units are turning up on the used equipment market at very reasonable prices.
ADVANTAGES
The T312 APU, manufactured jointly by Rolls Royce and BMW, has a very high Power-to-Weight ratio.  It weighs only 40Kg, but it can produce over 140 BHP. Another unexpected benefit is that the compressor stage is fitted with an air vent that can produce a high volume of compressed air.  This can be used to drive ancillaries.
DISADVANTAGES
One disadvantage is that the output is at a fixed speed of 8,000 – 8,560RPM, meaning that the APU has to be used with a variable pitch fan or continuously variable transmission.  A technique has been found to slow the turbine down, but the efficiency drops and the exhaust temperature rises.  This would worsen its fuel consumption and possibly reduce the turbine's service life.
Other disadvantages are that the APU is flange mounted, at the drive end with a non-standard mounting and it has a splined socket instead of an output shaft.
SOLUTIONS
We have therefore designed and machined a special adapter shaft that is splined at one end and tapered at the other.  The taper is designed to take a timing pulley to drive a belt to the hovercraft fan.
We have completed the design of the bearing housing to support the shaft and we are currently designing the support frame.  This will allow the turbine to be foot mounted in the hovercraft.
APPLICATIONS
Apart from powering a hovercraft, you can use an APU in other applications including:
Field water pump
Portable electrical generator
Combined heat and power unit
Propelling a Light Aircraft or small Airship