HOVERSOAR HOVERWING GROUND EFFECT VEHICLE
The nearest you can traditionally get to "Contactless Transport" is to use a hovercraft.  A hovercraft is an air cushion vehicle using a flexible skirt to contain a "bubble" of pressurised air for the vehicle to sit on.  However, this has limitations.  A hovercraft cannot:
Operate on porous ground, such as shingle
Travel in fields with crops, such as wheat or barley
Traverse sudden level changes, such as from a mud flat to a water channel in an estuary
Exceed the speed where the hull experiences aerodynamic lift that exceeds its weight.  If you do, the craft lifts at the front and then flips onto its side
Add correctly designed aerofoils and control surfaces and these limitations disappear.
GROUND EFFECT
Tthe aerofoils need to provide sufficient lift to raise the hull clear of the water or ground, but not into free flight.  The lift that is generated by an aircraft in free flight is roughly two-thirds generated by negative pressure on the wings' upper surfaces and one third positive pressure below.  However, if the wings are close enough to the ground or water, additional positive pressure builds up beneath the wings.  This is because the air is effectively squeezed between the wing and the ground or water, which is termed called "Ground Effect".
SCALE MODEL TESTS
Before building the full scale machine, we have built a 1/6th scale model, which you see in the picture and in various videos that we have uploaded to YouTube.  This permits us to try out various wing-plans and aerofoil sections in a rapid-build low-risk environment.
Presently, we are trying out new, computer generated aerofoils that is shaped to move positive pressure ground-effect lift towards the front and negative pressure free-flight lift towards the back.  This means that the craft will be more inclined to self-correct its pitch and thus remain in ground effect with reduced risk on going into free flight.
WHAT WILL THE FULL SCALE CRAFT BE LIKE?
The platform under construction is based on a BHC Marlin II Hull, powered by a Rolls Royce/BMW T312 APU Gas Turbine from a Tornado Fighter, driving a variable pitch fan.  If the powerplant sounds somewhat exotic, we have chosen it because it offers a significantly greater power-to-weight ratio than a four stroke piston engine.  Furthermore, the output does not suffer from piston engine pulsations, which reduces the stress level on the components that it drives.
SPECIFICATION (MAY VARY AS DEVELOPMENT WORK PROGRESSES)
Length: 5.4m (may increase a bit)
Wingspan: 5.6m (may decrease a bit)
Engine power: 140 – 150HP
Control Surfaces: Rudder, elevator and ailerons
Stabilisation: On-board pitch and roll sensor connected to control surfaces
Design speed: ~100Km/h or ~62MPH
Design cruise height: 1 – 3m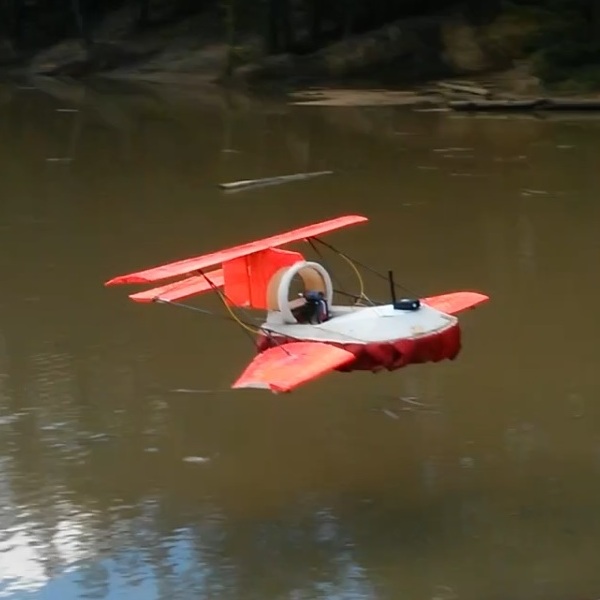 APPLICATIONS INCLUDE:
Lake, Loch and Fjord Transport
Surveying
Mud-Flat and Tidal Zone Search and Rescue
Archipelago Transport
Flood Search, Rescue and Emergency Resource Provision
Leisure and Recreation
WANT MORE DETAILS?
DO YOU WANT TO BUY AN RC SCALE MODEL?
WOULD YOU LIKE TO JOIN IN AS A JOINT VENTURE PARTNER?