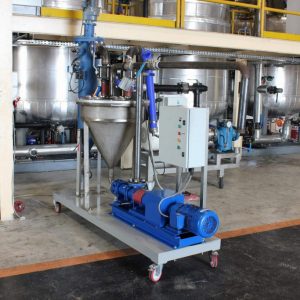 The customer is a well-established lube oil manufacturer who wanted to diversify into manufacturing. This was due to increasing heavy industry in their location that was generating a demand for this product.
This is a full-scale grease plant that features a 3 Tonne Autoclave and two 5 Tonne Finishing Kettles.  The plant has capacity to manufacture 3000 Tonnes per year on a single shift system, which could be increased by using double shifts.
The three vessels can also run independently as stand-alone kettles. The mobile mill, grease filter and de-aerator provide the post processing
We used faster and more powerful agitation than before, to give a more complete reaction in a shorter time.  This provides the benefits of an under-driven contactor without its disadvantages.
The client independently sourced some of the support equipment, for example the thermal oil heater and mezzanine floor, to maximise the cost benefit.