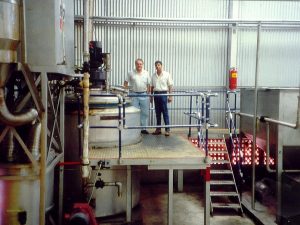 The customer was an experienced lube-oil blender.  However, they needed to start manufacturing grease in-house because of rising import tariffs.
Designed and Project Managed by Tom Ryland (Left in picture), this 1,000 Tonnes per annum grease plant was based on a 2 Tonne directly heated grease kettle and two steam jacketed mixers.  He designed it to manufacture:
Lithium Grease (Std and Complex)
Anhydrous Calcium Grease
Aluminium Stearate Grease
Bentone Grease
Sodium Grease
This plant used a single stage process to do the whole batch, after which the grease was stored in a hopper for feeding to the mill and de-aerator.